S.E.A Aquarium
Marine Life Park™Dive into Marine Life Park™, the world's largest oceanarium and be inspired by the myriad marine wonders of our blue planet. Featuring two world-class attractions – each promising an exclusive insight into the aquatic world, Marine Life Park™ takes you and your family on an unforgettable journey.Begin your quest for knowledge by exploring the awe-inspiring universe of life in the ocean at S.E.A. Aquarium™, the world's largest aquarium. Marvel at more than 800 species of marine animals from magnificent sharks to rarely sighted fish through our planet's largest window to the ocean. Then, plunge into wet and wild fun at Adventure Cove Waterpark™, a tropical paradise with an escapade for everyone. Zip down adrenaline-packed waterslides; take an epic journey along Adventure River, snorkel with 20,000 colourful reef fish and feel the magic of wading and interacting with dozens of rays.A leader in marine education, conservation and research, Marine Life Park™ also offers a wide range of fun and engaging programmes designed to deepen your understanding of the oceans and their ecosystems. Choose your area of interest and learn how you too can help protect the marine life that surrounds us all.Come discover our action-packed aquatic world and fall in love with our spectacular ocean animals at Marine Life Park™, Resorts World™ Sentosa Singapore!
---
Universal Studios Singapore®
Universal Studios Singapore
---
Sentosa 4D Magix
Sentosa 4D Magix presents to you an interactive movie experience with 4-dimensional digital effects. They claim as first 4D theatre in Southeast Asia as can been seen from the signboard over the ticketing counter. The movie allows you to feel, shake, and laugh out aloud, as you experience the magic of movies in a completely different way.  You can be tossed about in your seats, feel the wind blowing in your face and the water rushing your way. Let the synchronization of this wide spectrum of special visual, sound, motion and environmental effects put you right in the middle of the action.
---
Cine Blast 3D
Sentosa CineBlastBe prepared for the ride of your life! Feel the exhilaration of flying to the top of the highest mountain, the stomach-churning thrill of rushing into the deepest valleys, and the gripping excitement of being tossed about by whitewater rapids. That's what you can expect at CineBlast, Singapore's only state-of-the-art cinema simulation ride.
---
Skyline Luge Sentosa
Skyline Luge Sentosa brings you the first ever luge in Southeast Asia. Part go-cart, part-toboggan, pure excitement – the luge is a fun-filled gravity ride that's safe for all ages. With a unique steering and braking system that allows you to make the ride as leisurely or as exciting as you want. Jump on the Skyline Luge Sentosa and brace yourself for a brand new island resort adventure!
---
Singapore's Butterfly Park and Insect Kingdom
This is one of a kind and spectacular tourist destination in Singapore that tourist and visitors will experience the breath-taking beauty of the thousands of butterfly and insects. Singapore's Butterfly Park and Insect Kingdom is an enchanting and amazing tropical garden with lots of greens, flowers, butterflies and other insects are flying over you.
---
Under Water World
Tropical oceanarium on Sentosa Island including virtual tours of exhibits and information on programmes, conservation and education.
---
Images of Singapore
Images of Singapore is a journey to the very soul of Singapore – a place where cultural diversity, unity of values, adventure, perseverance and honor converge like nowhere else in the world. A must-visit for every visitor!
---
Sky Tower Singapore
Catch panoramic views across Singapore, Sentosa and the Southern Islands from Asia's tallest free standing observation tower. Day or night, views from the tower promise to be both scenic and breathtaking as it gently revolves to a height of 131 metres above sea level.
---
Giant Merlion Tower  @ Sentosa
Visitors can go inside this 12-story statue of the mythical half-lion, half-fish creature that looks out over the entire city.The 
Merlion
 (Malay: 
Singa-Laut
) is a mythical creature with the head of a lion and the body of a fish, used as a mascot and national personification of Singapore. Its name combines "mer" meaning the sea and "
lion
". The fish body represents Singapore's origin as a fishing village when it was called 
Temasek
, which means "sea town" in Javanese. The lion head represents Singapore's original name — 
Singapura
 — meaning "lion city" or "kota singa".
---
Songs of the Sea
Prepare to fall under the spell of a new nightly extravaganza with an enchanting marine theme.Songs of the Sea brings you a mesmerizing show with a live cast, dramatic effects and pyrotechnics. Water jets, flame bursts, lasers and captivating music make this a one-of-a-kind entertainment spectacle that's fun for everyone. A rain or shine event, this is one performance that you won't want to miss.Wheelchair accessible seats are available at the front row (not applicable for premium seats) of the Songs of the Sea seating gallery.
---
Singapore Flyer
Singapore Flyer, the world's largest giant observation wheel, gives a 360 panoramic view of Singapore, from the fast-changing Marina Bay that is transforming by the minute, to the islands of Malaysia and Indonesia. It is the best vantage point of Singapore to see and feel the vibrancy of the beautiful and colorful city. Besides enjoying the 30-minute ride on the 165-metre tall Singapore Flyer, the exciting mix of specialty and lifestyle concept shops at the three-story Retail Terminal. « less
---
Singapore River Cruise
Hop on the Original Singapore River Cruise and soak in the tranquil ambience of the riverside as we embark on a unique journey down the river to discover the past, present and possibly the Future. Highlights include Boat Quay, Clarke Quay and Marina Bay.Singapore River Cruise is just one of the top attractions & things-to-do in Singapore that make up the sightseeing pass known as the See Singapore Pass. This pass allows you entry and special discounted offers at many more attractions.
---
Orchid Garden
Founded in 1859 by a horticultural society as a leisure garden, the site in 1990 came under the management of the National Parks Board while still maintaining
---
Jurong Bird Park
---
Singapore Zoo
Singapore Zoo's always abuzz with activity! New births, themed events galore and refreshed animal exhibits are but some of the things that happen year round — the Zoo is a constant hive of happenings and we want you to be a part of it.Keep tabs on this section so you'll always know what's up and can join in the fun.
---
Night Safari
In May 1994, the world's first Night Safari officially opened its gates. To celebrate our 18-year anniversary, we unravel 18 intriguing facts on one of the world's famous attractions.
---
Chinatown Heritage Centre
The Chinatown Heritage Centre houses a wealth of memories and untold stories of the past over 13 stations. The Chinatown Heritage Centre breathes the stories of the original tenants at 50 Pagoda Street, from the tailor and his apprentices, to the Samsui women and the coolies.
---
Singapore Cable Car
An iconic attraction in itself, the new Singapore Cable Car presents bird's eye view of Singapore's city, the harbour and Sentosa Island. Photo opportunities are abundant with the cabin's 360-degree panoramic windows. Equipped with a level walk-in for wheelchair and baby pram easy access, the 8-seater cabin is also fitted with a touch-screen multi-lingual infotainment system. Double the pleasure as your ticket gains you admission into Sentosa Island, as well as Asia's First Cable Car Museum.Alight at Mount Faber Station to visit Mount Faber Park, one of the oldest hilltop parks in Singapore and also a popular tourist destination. Take a stroll amidst this haven of greenery and drop by The Jewel Box, fondly known as Singapore's Iconic Hilltop Destination, a scenic place with different dining options to choose from. Getting here:Alight at HarbourFront MRT station, proceed to Exit B towards HarbourFront Centre. Cross the link bridge (beside KFC) to get to the Cable Car station at HarbourFront Tower Two. Cable car operating hours: 8.45am to 10pm daily (last ride at 9.45pm)
---
Marine Life Park
Marine Life Park
(Coming Soon)Dive into the aquatic world and get a chance to interact with dolphins, snorkel with rays and come face to face with some of the ocean's most fascinating creatures.
---
RWS CASINO
Dress right for entry to casino The acceptable dress code to enter the casino is Smart Casual. Anyone not dressed accordingly such as slippers, shorts and singlets will be refused entry. We thank you for your cooperation.
---
Marina Bay Sands
STAY IN THE MOST SPECTACULAR HOTEL IN SINGAPORE!    Experience our world-class restaurants, entertainment, shopping and casino – crowned by the landmark Sands SkyPark®.ADMISSION FEE$20 adults, $14 children (2-12 years), $17 senior citizens (55 years and above)Tickets available at Marina Bay Sands®, Ticketing Counter at Hotel Lobby Tower 3Operating Hours: 10am – 10pm daily
---
ArtScience Museum at Marina Bay Sands
ArtScience Museum at Marina Bay Sands® aims to be the world's leading museum that explores the creative processes at the heart of art and science and their role in shaping our society.ArtScience Museum is a place that begins to question and discover the connection and similarities between the arts and sciences; and look at how people do ingenious work in both fields. ArtScience Museum presents exhibitions that give people a better understanding of how inspiration, creativity, and expression are born.Featuring 21 gallery spaces totaling 50,000 square feet, ArtScience Museum embraces a spectrum of influences from art and science, media and technology, to design and architecture, bringing the best of world culture to Singapore.
---
Singapore Botanic Gardens
Singapore Botanic Gardens' Rain Forest is one of the oldest remnants of primary rainforests in
Singapore. It is located in the heart of the city, and is only a hop away from Singapore's busiest
shopping precinct, Orchard Road.The 6.2 hectares of rainforest is home to 314 species of flora and gives an indication of the wonderful richness of tropical plants.  The Singapore Botanic Gardens' Rain Forest is a
national treasure not only for its rich biodiversity, but also because it is part of the original site of the Botanic Gardens founded in 1859.  
Type:
 Gardens, Parks
Fee:
 No
Description:
 This national park is open daily and features beautiful lakes, animals, flowers and plants, including one of the region's first rubber tree orchards.
http://www.nparks.gov.sg/cms/docs/SBG_Rainforest_%20E-guide_FINAL.pdf
http://www.nparks.gov.sg/cms/docs/GingerGarden_eguide%20final_Lres_pdf.pdf
---
Chinatown
For a fascinating peek into Singapore's Chinese culture and history, Chinatown is good place to start. Here, you'll enjoy a mix of heritage visits to museums, shopping as well as a good variety of food options, sure to leave a traveller happy and satisfied at the end of the day
---
Orchard Road
Spanning almost 2.2 km, Orchard Road is a swanky, tree-lined one-way boulevard flanked by distinctive shopping malls and hotels.The shopping belt comprises nearly 800,000 sq m of shops and restaurants and promises to please any taste or budget with its iconic malls which boast the full works – from opulent brands to high street fashion, and from exclusive restaurants to fast food joints.It is a Great Street to shop, dine, stay, play, work, and live.
---
ION Orchard
It claims to be the 'centre of gravity' in the Singapore retail scene – and with jawdropping frontage, cutting-edge design, and more than 300 stores, it makes a good case. Apart from the obvious reason for coming here – shopping – be sure to check out the extra bells and whistles. There's ION Sky, a double-storey observation deck on the top two floors; a media 'membrane' – a 117m 'skin' that wraps round the complex that broadcasts telecasts of events and shows; ION2, the largest sheltered area on Orchard Road, that plays host to national parties; and ION Art Level, 5,3002 ft of art.
---
Esplanade – Theatres on the Bay
Sitting on prime waterfront at Marina Bay, Esplanade – Theatres on the Bay offers a complete lifestyle experience in dining, shopping and the performing arts. It was completed in 2002 and is well-recognised for its "prickly" exterior similar to the durian, a popular local fruit.
---
Merlion Park
Standing at 8.6 metres high and weighing 70 tonnes, the Merlion statue has a lion's head and a fish's body, and is housed here in this 2,500 square metre park.
---
Little India
An experience for all five senses. Start at the Tekka Centre, a traditional wet market and food court where fresh meat, seafood, vegetables, fruits and dry goods are sold. Cruise down Serangoon Road to find more groceries, restaurants, teahouses, tailors and Mustafa Centre, a massive department store selling anything and everything. Visit during Deepavali, the Hindu festival of light, held in October or November.
---
Arab Street
Visitors who enjoy a little bargaining will find it here among the historic shops selling textiles, perfume and more. Along with traditional Muslim food offerings, some Western restaurants have settled into the area, creating a Singaporean blend of cultures. Make sure to stop at the island's largest mosque, the Sultan Mosque, a landmark in the Kampong Glam Malay Heritage District.
---
Boat Quay
Wharfs/ Piers/ Boardwalks, Landmarks/ Points of Interest
---
East Coast Park
East Coast Park is free beach on Singapore's southeastern coast and the most popular park in Singapore. The park is easily accessible by East Coast Park Service Road with numerous exits along the East Coast Parkway. The park is accessible via public transport in the form of bus services, available on East Coast Park Service Road. Parking is available at Marine carpark.The city's most popular stretch of beach always buzzes with activity – even when it's not playing host to the wide spectrum of sporting events that grace its shores regularly, like the Singapore Marathon and Xtreme Championship.
There's plenty to do here – bowl, bike, fish, stroll, picnic, rollerblade, windsurf, wakeboard, kayak, or just chill out at any of the many restaurants and bars that line the 15 km stretch of sandy beach, including the Mana Mana East Coast Beach Club.East Coast Park is also home to a new S$8 million dollar, world-class Xtreme Skate Park that looks all set to up the thrill seeking ante. The famous East Coast Park Seafood Centre located here is also where locals and visitors alike congregate to chow down on scrumptious local culinary delights.
---
Bukit Timah Nature Reserve
This is Singapore's largest surviving primary rainforest. The 163-hectare Reserve includes Singapore's highest hill at 163m. Bukit Timah Nature Reserve is the first forest reserve in
Singapore established for nature conservation in 1883.  It was also officially declared as Singapore's second ASEAN Heritage Park on 18 October 2011. Together with Sungei Buloh Wetland Reserve, it is now part of the prestigious regional network of 30 protected areas,
forming the complete spectrum of representative ecosystems in ASEAN. It comprises various types of forests, including a substantial portion of Singapore's original tropical primary rainforest ecosystem, which makes up about half of the Reserve.  This protected rainforest, just 12km away from the city's high-rises, offers hiking and bike trails for observing some of the rarest insect, bird and mammal species in the world.
http://www.nparks.gov.sg/cms/BTNR_eguide_Final.pdf
---
Underwater World and Dolphin Lagoon
The biggest draw at this aquarium is "The Tunnel," an 83m acrylic tube where visitors move along a travellator belt through a tank of sharks and other deadly sea creatures. Our latest addition is the New Dolphin Lagoon, completed at a cost of over S$10 million in which we shifted the old lagoon from Palawan Beach to in Nov 2009
---
Fountain of Wealth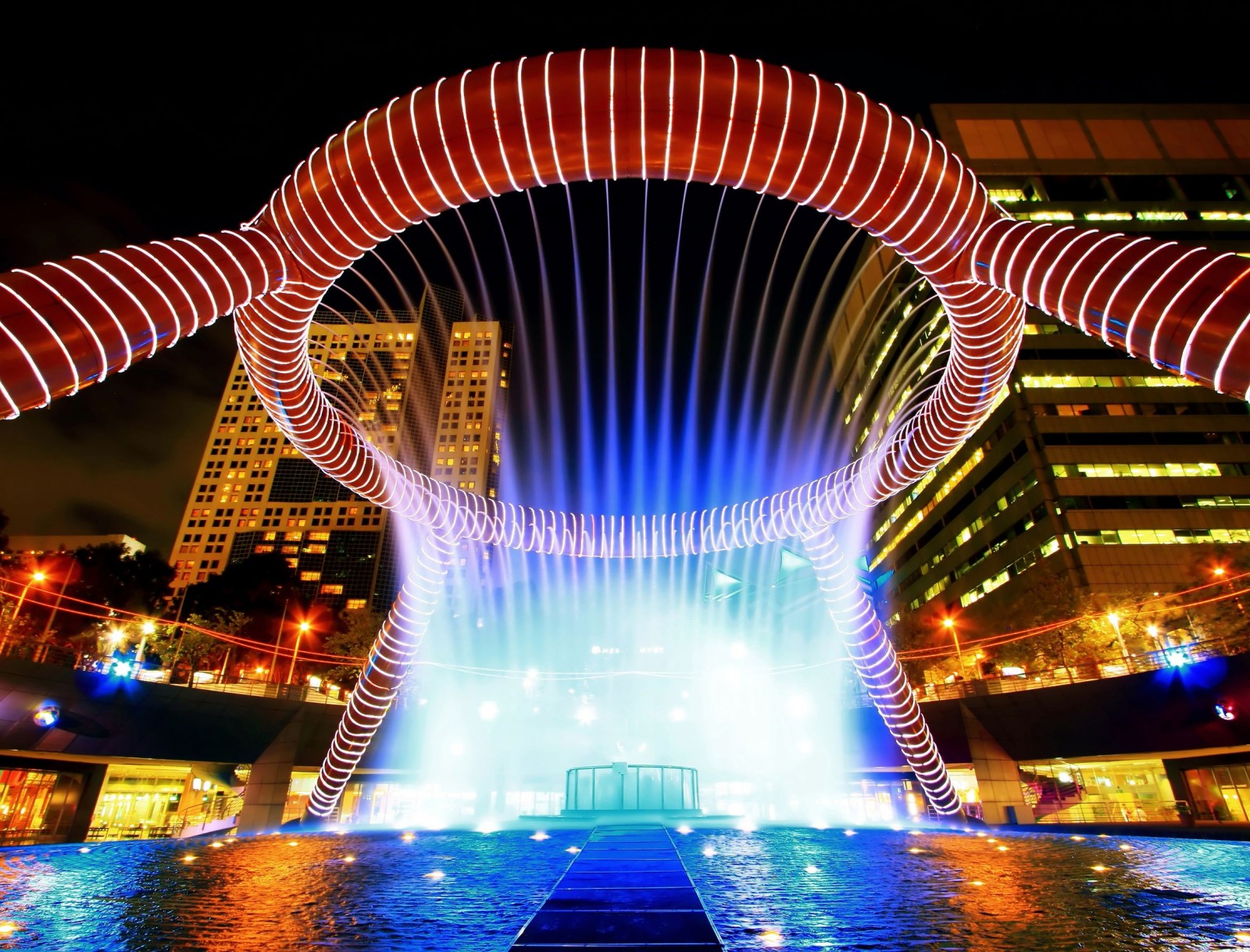 Suntec City, Singapore
---
Crane Dance at Resort World Sentosa
Sentosa Gateway
---
Marina Barrage
Be captivated by the bright lights of the Singapore Flyer and the Central Business District skyline against the sky at sunset, reflected in the still waters of the Marina Barrage. This Reservoir in the City was created with three key benefits, to provide water supply, flood control and a lifestyle attraction.
---
St Andrew's Cathedral
It's no wonder why St Andrew's Cathedral is one of Singapore's most treasured works of architecture. Gazetted as a national monument on 1973, you'll stand in awe at its majestic facade, with extended pinnacles and a glossy white exterior.
---
Sri Mariamman Temple
The oldest Hindu temple in Singapore, the Sri Mariamman Temple is still one of the most prominent places of worship for Hindu devotees all over the country, her brightly coloured facade standing among the most recognisable landmarks of Chinatown.
---
Sultan Mosque
A century later in 1928, Denis Santry, an architect of Swan and McLaren, employed the Islamic-Saracenic style that combines ideas from Indian and Islamic traditions, designing a Mosque that incorporated the use of minarets and balusters.
---
Thian Hock Keng Temple
Thian Hock Keng is one of the oldest and most important Hokkien temple in Singapore. It was visited by Chinese immigrants giving thanks to Ma Zu (Goddess of the Sea) for their safe voyage.
---
Buddha Tooth Relic Temple
The BTRTM building design was conceptualised and designed by Venerable Shi Fa Zhao, aided by a team of local and overseas consultants. A number of draft designs were developed, incorporating the best arts and culture of the great Tang Dynasty of China and the principles of the Buddhist Mandala, as core design philosophy. A great deal of research had been made to ensure accuracy and authenticity.OPENING HOURSViewing of Buddha Tooth Relic
Daily 9am – 6pmBuddhist Culture Museum and Relic Chamber
Daily 9am – 6pm

Emiment Sangha Museum
Daily 7am – 7pm
ADDRESS : 288 South Bridge Rd Singapore 058840
---
Fort Canning Park
Fort Canning in Singapore is a beautiful island with a multi cultural history.  The valuable port access has made Singapore the site of many wars and power struggles.  There is much history preserved within the land, buildings, and architecture. There are many free site-seeing areas to enjoy and learn from within a small walking area.
---
Haw Par Villa
Previously known as 'Tiger Balm Gardens', Haw Par Villa was later renamed after its former owners, the Aw brothers – Boon Haw and Boon Par, who made a fortune in the early 1900s selling Tiger Balm, a cure-all paste created by their father.Haw Par Villa is like no other place in the world, with over 1,000 statues and 150 dioramas that dramatise Chinese legends and folklore. Founded on Chinese legends and values, this historical theme park has large, imposing statues from famous legends of old – featuring characters like Fu Lu Shou, Confucius and the Laughing Buddha.The most well-known is probably the Ten Courts of Hell exhibit, which depicts scenes of punishment and reincarnation popular to Buddhist belief. This is followed by Journey into the West, which retells the classic Chinese legend of monk Xuanzang in his search of Buddhist scriptures. Prepare to be fascinated by stories and images of ancient times here at Haw Par Villa, told vividly through storytelling.
OPENING HOURS : Daily 9am – 7pm
ADMISSION FEE : Free admission
ADDRESS : 262 Pasir Panjang Rd Singapore118628
---
Chinese Garden
Be in harmony with nature at the Chinese Garden Conjure up the spirit of ancient China with a visit to the serene Chinese Garden. Modelled on the northern Chinese imperial style of landscaping and architecture, the garden was designed by renowned Taiwanese architect Yuen-Chen Yu.Rising from the cultivated gardens are majestic pagodas, built to integrate and to be in harmony with the natural environment. Soak up the tranquility as you stroll along the meandering footpaths and take in the beauty of the woven plants, rocks and gentle stream.A must-see is the Suzhou-style Bonsai Garden, built using 1,000 bonsai trees imported from China. You can also learn the ancient art of tending to the delicate bonsai at the Bonsai Training Centre. The gardens are connected to the nearby Japanese Garden by the "Pai Hung Ch'iao" or "White Rainbow Bridge", built in the style of the 17-Arch Bridge at the Summer Palace in Beijing.
OPENING HOURS : Daily 6am – 11pm
ADMISSION FEE : Free admission
ADDRESS:  Chinese Garden Singapore 619795
---
Turtle & Tortoise Museum
The Live Turtle & Tortoise Museum Singapore. Welcomes you to enter into a rare world of turtles and tortoises.Sense the mystery of the jungle river, the awesome power of the Alligator turtle and the majestic beauty of the Radiated tortoise. Learn the difference between the graceful, speedy Mata-mata and the muscular 60-year-old Asian Turtle of fortune; stare into the fire-red eye of the Elongata Tortoise when they mate. See and feel the spirit of the Sulcata Tortoise for luck, and the Thailand's Golden Temple Turtle for wealth. Be fascinated by the secretive Pancake Tortoise, Golden Terrapin and the Six Legged Tortoise. Listen to the lonely noise of the Indian Star Tortoise and marvel at the strange looking Soft Shell Turtle from India.
OPENING HOURS : Daily,including Public Holidays : 9am to 6pm
GENERAL ADMISSION Adults:S$ 5.00 Children(under 6 years): S$ 3.00 Senior Citizen (Above60 years old): S$ 3.00
Address : 1 Chinese Garden Road, Singapore 619795     Tel: (+65) 6268 5363/6271 1846
---
Bukit Batok Nature Park
Popular with nature lovers and runners, the Bukit Batok Nature Park offers meandering paths through the scenic forest. As you walk along the footpaths, you'll reach look-out points – some reaching more than 10 storeys high – all of which provide breathtaking views of the surrounding areas.
Developed on a site of an abandoned quarry, you'll also find a picturesque pond near the entrance of the park at the foot of a high cliff wall – a relic from the mining days of the region. The park is a great place to have a peaceful walk through the undulating terrain.
OPENING HOURS : Daily 7pm – 7am (lighted hours)
ADMISSION FEE : Free admission
ADDRESS : Bukit Batok East Avenue 2 Singapore 659840
---
Asian Civilisations Museum
The Asian Civilisations Museum (ACM) is the first museum in the region to present a broad yet integrated perspective of pan-Asian cultures and civilisations. As one of the National Museums of Singapore under the National Heritage Board, we seek to promote a better appreciation of the rich cultures that make up Singapore's multi-ethnic society.
OPENING HOURS : Mon 1pm – 7pm Tue to Sun : 9am – 7pm (extended to 9pm on Fridays)
ADDRESS : 1 Empress Place Singapore 179555
---
Lau Pa Sat
Lau Pa Sat (or "old market" in the Hokkien dialect) was Singapore's first wet market that dates back over 150 years ago to the time of Sir Stamford Raffles, the founder of Singapore.It was subsequently converted into a famous gourmet paradise and has been gazetted as a national monument since 1973.Along the street there are about 10 stalls setup selling Satay, BBQ prawn and BBQ chicken wing. Satay and BBQ chicken wing are two of the famous dishes selling at the street. Satay is selling around SDG 0.60 per stick and you can choose to have mutton, chicken or breef Satay but not pork as most of the satay vendors are Muslim. Do also order the rice cake to go with your satay and the peanut source.
---
Old Parliament House
The Old Parliament House, now known as the Arts House at the Old Parliament, is a building in Singapore. It is currently a multi-disciplinary arts venue which plays host to art exhibitions and concerts. The building was formerly home to the Parliament of Singapore from 1965 to 1999, when it moved to an adjacent new building. Built in 1827, the Old Parliament House is the oldest existing government building in Singapore.
---
Labrador Nature Reserve
Part of the Southern Ridges, Labrador Nature Reserve is an oasis of tranquility and natural wonders. The park offers a picturesque view of the sea. A path built on the edge of the secondary forest provides a prime view of the cliff side vegetation coupled with a panoramic view of the sea. It is not uncommon to hear songs of a variety of bird species, including the Oriental Magpie-robin and Black-naped Oriole. While you are taking a leisurely stroll along one of the nature trails, you can spot squirrels scurrying up trees.
http://www.nparks.gov.sg/cms/docs/diy_guide/Labrador_guide.pdf
---
Empress Place, Esplanade Park & War Memorial Park 
This walking trail starts near the mouth of the Singapore River, once the heart of Singapore's commercial activity and entrepot trade. It will bring you through Empress Place, Esplanade Park and ends at War Memorial Park, taking you to several historical landmarks that tell the story of Singapore's history, growth and development.http://www.nparks.gov.sg/cms/docs/Nparks_eguide_EspPark_D8.pdf

---
Wild Wild Wet
Wild Wild Wet, Singapore's largest water theme park, is gallons of fun for the whole family. Wild Wild Wet features 9 distinctive rides and facilities – from the family-friendly to the exhilarating, and will appeal to both the uninitiated and thrill- seekers. Whether you are looking for some relaxing fun floating along the Shiok River or seeking adrenaline-pumping excitement sliding down Ular-lah, Wild Wild Wet guarantees you a day of wholesome and wild wet fun!
And if your exciting adventure leaves you feeling a little hungry, there are many fantastic nearby restaurants and eateries to whet your appetite further!Wild Wild Wet was awarded the Pro-Family Business Mark for providing numerous family-friendly facilities such as lifejackets, baby carriers, nursing rooms and children's shower cubicles. It was also the winner of the 2004 World Water Park Innovation Award for its creative design and technology.
OPENING HOURS : Mon, Wed to Fri 1pm – 7pm 
Sat, Sun, School & Public Holidays
10am – 7pm
---
Wave House Sentosa
Wave House Sentosa is the fourth and newest installation in an archipelago of Wave Houses that include South Africa, California, and Chile. The Singaporean sports scene has finally found middleground as local surfers, skaters, skimboarders and even snowboarders, flock to Sentosa in search of perfection on the rushing wave. Home to the FlowBarrel ® and FlowRider ® sheet wave attractions, Wave House Sentosa is an oasis of delectable food and drinks – within reach of Singapore's hustle and bustle, but a world away.OPENING HOURS : Daily 10:00am – 11:00pm
DAILY 1-FOR-1 SPECIALS but especially on Wednesdays, all wave rides, food and drinks
---
Mana Mana Beach Club
Mana Mana Beach Club brings a 12 year track record of beach club and watersports operations to Singapore. The beach club offers the best options for both seasoned and social watersports enthusiasts offering a range of facilities to members, general public and those visiting Singapore.The beach club offers regular watersports courses and programmes for adults and children, equipment rental, storage facilities, al-fresco dining with bar, events function room, beach volley ball court, dip/ dive pool, gymnasium, resort standard shower facilities and a proshop.
OPENING HOURS : (Opening hours for watersports is Mon-Sun 10AM to 6:30PM)
Weekdays: 10.00am to 11.00pm
Weekends: 9.00am to 12.00mn
---
Kusu Island
Kusu Island is one of the Southern Islands in Singapore, located about 5.6 kilometres to the south of the main island of Singapore, off the Straits of Singapore. The name means "Tortoise Island" or "Turtle Island" in Chinese; the island is also known as Peak Islandor Pulau Tembakul in Malay. From two tiny outcrops on a reef, the island was enlarged and transformed into an island holiday resort of 85,000 square metres.Story passed down by both Malays and Chinese in Singapore says a magical tortoise turned itself into an island to save two shipwrecked sailors – a Malay and a Chinese. The two men gave thanks according to his belief system, the former by building a Muslim kramat (keramat) (shrine), and the latter by establishing a Taoist shrine.
---
Science Centre Singapore
The Science Centre Singapore (Abbreviation: SCS, Chinese: 新加坡科学馆), previously known as Singapore Science Centre is a scientific institution in Jurong East, Singapore, specialising in the promotion of scientific and technological education for the general public. With over 850 exhibits spread over eight exhibition galleries, it sees over a million visitors a year today, and over 17 million visitors up to the year 2003 when it celebrated its silver jubilee.The Science Centre Singapore prides itself on making science an inspiring and exciting experience for people of all ages.
Our many interactive exhibits, housed in 14 galleries, cover a wide range of topics related to science, technology and mathematics and take up a total of about 20,000m2 of indoor and outdoor space.We also offer a wide range of enrichment programmes for students aimed at complementing the school's formal science education as well as enriching and fun events, competitions and outreach activities for everyone. Today, the Science Centre receives more than a million visitors annually and is acclaimed as one of the top Science Centres in the world.
OPENING HOURS : Daily 10am – 6pmOmni-Theatre
Mondays – Fridays
10 am – 6 pm (last show at 6pm)Saturdays – Sundays,
School & Public Holidays
10 am – 8 pm (last show at 8pm)
---
Singapore Discovery Centre
The S'pore Discovery Centre (Chinese:知新馆, Abbreviation: SDC) is a 'edutainment' attraction that offers engaging exhibits for everybody, providing insights into what makes Singapore ticks.
If you are one who questions everything and possesses an interest in finding out how things tick, you'll love S'pore Discovery Centre.Uncover what makes Singapore unique. Immerse yourself in a diverse collection of thought-provoking and interactive exhibits that will provide good fodder for your inquisitive nature.
OPENING HOURS : Tuesdays – Sundays 9am – 6pmClosed on Mon (except during School and Public Holidays)
ADDRESS :510 Upper Jurong Road Singapore 638365
---
Red Dot Design Museum
The red paintwork hint of the former traffic police headquarters' new persona. An eclectic community of organisations breath new life into the 1920s colonial building. A design museum, creative services, lifestyle organisations, food and beverage outlets make up red dot Traffic.
OPENING HOURS : Mon, Tues and Fri 11am – 6pm Weekends 11am – 8pm
ADDRESS : 02-15, Red Dot Traffic Building, 28 Maxwell Road,  Singapore 069120
---
Garden by the Bay
Bay East Garden Beautiful pavilions, wide open lawns, swaying palm trees and waist-high flowering shrubs welcome you at Bay East Garden, where you can admire the modern Marina Bay financial district skyline from along its 2km waterfront promenade.Find serenity at this interim garden, as you sit along the promenade with a good read or grab your camera and snap breathtaking views of the iconic Conservatories and Supertrees against the Marina skyline. Enjoy a quaint stroll, family picnic or simply immerse yourself in a variety of recreational activities amidst this picturesque landscape